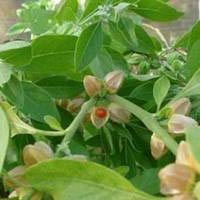 Ashwagandha root, this root has been used in India by practitioners of Ayurvedic herbal medicine (or Ayurveda) for many thousands of years.
This wonderful extract is contained in  a number of nutrition Products.
This plant grows in India which may not surprise you but surprisingly also in North America.
Ashwagandha is known for its potent adaptogen properties and is used as a general tonic by Ayurvedic practitioners.
Adaptogens are extremely valuable nutrients that help the body to handle stress and regulate or balance the bodies major functions. They help maintain homeostasis within the body. Some other great examples of super adaptogens are jiaogulan,  goji berries as well as panax ginseng.
Ashwagandha root contains valuable flavonoids as well as several active alkaloids of the withanolide class.
It is these withanolides that it is believed is what accounts for the very valuable health properties of Ashwagandha root.
Ashwagandha root is reported to have anti-stress, antioxidant, anti-inflammatory, anti-tumor,  mind-boosting, as well as immune-enhancing, and rejuvenation properties. Also I'm sure this will interest you – from a historical prospective Ashwagandha has been reported to have sex-enhancing properties.
This herb is also reported to have anti-aging,  and longevity benefits.
Some of the reported benefits of Ashwagandha:
Helps support normal blood pressure levels
Helps maintain healthy cholesterol levels
Helps maintain healthy blood sugar content
Improves mental awareness
Can improve male and female libido