The release of Product B™ Antioxidants plus Telomere Support launched Isagenix into the scientific world's growing quest to combat aging from the inside out. It's been more than a year and thousands worldwide have already begun to feel and show the benefits of taking Product B – ­increased energy, improved fitness, and a general feeling of youthfulness and vigor.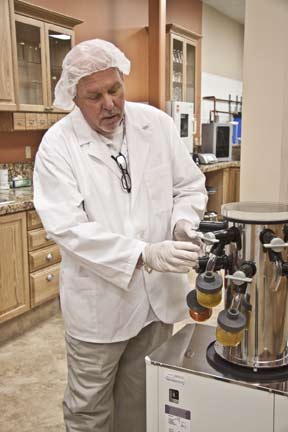 John Anderson, pictured here in his lab, recently released the next-generation development of Product B.
"The changes are both visible and invisible, but the biggest is that I've lost all semblance of age. If it weren't for my driver's license, I'd feel like I was 25. I have more energy, and every day I feel more and more alive," said Peter Greenlaw, an Isagenix Associate and Product B user.
Never one to rest on his laurels, Isagenix Founder and Product B Formulator John Anderson has been working tirelessly to continually improve the efficacy of his groundbreaking, telomere-supporting formula. And now, with the newly introduced third generation of Product B, the evidence is clear that Anderson has made significant strides in the product's ability to support telomere health. Telomeres play a large part in healthy aging. As the protective DNA sequences at the end of each chromosome, telomeres are the difference between accelerated aging and normal, or what some would call "youthful aging." As cells divide, the length of telomeres shorten until finally the cell can no longer divide and the signs of aging begin to appear.
"How we live­ diet, exercise, stress and exposure to toxins has a tremendous influence on the overall health and length of our telomeres," said Anderson.
Earlier in the year, Anderson touched on the future impact of Product B. Detailing his first visit with Bill Andrews, Ph.D.­the molecular biologist, anti-aging crusader, and Anderson's collaborator in the testing and vetting process. Anderson recalls their conversation: "Bill said, 'We use a control that actually turns on the gene that expresses telomerase. It's very strong and very potent, but it's not for human consumption.' This answered my next question, which was why it wasn't on the market."
Dr. Andrews's tests involve running Anderson's natural ingredients through a machine that measures whether or not an ingredient produces a hit, which is the equivalent of inducing telomerase. The machine does this by comparing the test ingredients against a control that turns on telomerase activity. Unfortunately for humans, that control is too toxic for consumption.
"I wanted to have a hit as big as the control," Anderson shared. "Bill told me it was impossible ­the control was so strong we were never going to see a hit like that in a natural botanical."
Loving a challenge, Anderson sent Dr. Andrews 80 to 160 vials every week for screening. All Dr. Andrews knew about the vials was that they differed somewhat in ingredients and potency.
Anderson's hard work finally paid off with an exciting phone call from Dr. Andrews in early March. "You've exceeded our control, I can't believe it. What are you doing over there?" Andrews said over the phone.
Visibly emotional, Anderson said he gets "goosebumps" thinking about what the third-generation of Product B will do for consumers. "For every batch, we try to improve and increase the potency and efficacy, so we get more telomere support," he said. "What does this mean for all of you? As telomere research evolves and we discover new technologies and ways to prepare the ingredients, they're going to make their way into the product and you're going to reap all the amazing benefits."
"I'm really proud that we've come this far. We've been able to prove that we can do more than scientists ever thought we'd be able to do. Isagenix is in its eleventh year of business, and I wonder what we'll do in the next 10 to 11 years­ even six months to a year from now! I tell you, its mind-boggling and I am more than excited. To me, this is the beginning of the beginning," said Anderson.
These improvements have been shown to induce telomerase in vitro. In vitro lab results may not be indicative of in vivo results. For optimal telomere benefit, Product B is intended to be taken as part of an Isagenix System.
Also – Telomeres and Dr. Bill Andrews Buy IsaGenix Product B – http://www.anti-aging-now.com/
IsaGenix Product B with Antioxidants Plus Telomere Support FAQ – http://www.anti-aging-now.com/telomeres-faq.html